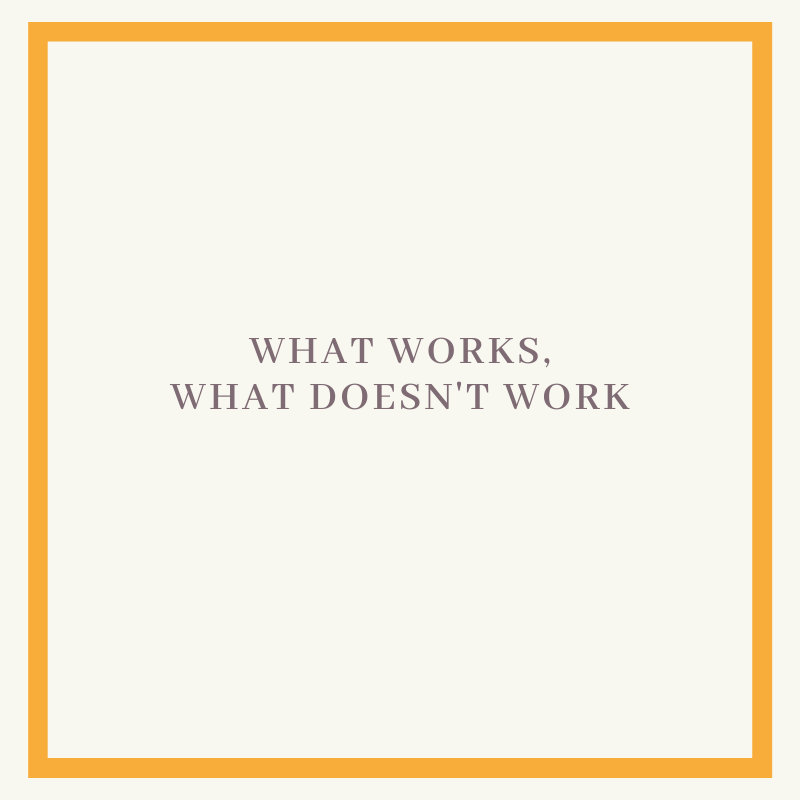 For this week's mantra, I was inspired by a podcast, but honestly I cannot remember which one it came from, ha. As I have mentioned before, I listen to podcasts while I run and then take notes of things that inspire me and interest me. Well, I guess my note taking skills were not great on this day. However, I clearly remember the context and that these words, "what works, what doesn't work" resonated with me because I have been doing a lot of self-evaluation lately.
We often go through our day in auto-pilot completing work and personal tasks without ever truly evaluating our return on investment. Lately, I have been trying to look at each task that I do and consider if I do it just because I always have or if I need to/ should do it. I often walk with my neighbor and we are both very Type A and along the same topic, we discussed our self-imposed deadlines and task lists. As a result, I have been trying to become more self-aware regarding my to-do list to better understand what adds to my life and what takes away from it. So, this week's mantra may be more of a question, but hopefully it will provide some answers.
What Works, What Doesn't Work.
What Works, What Doesn't Work.
What Works, What Doesn't Work.
I hope this mantra resonates with you and will help guide you throughout your week. See you here or out there somewhere soon!
XO – Laurel